Vitamin C is a remarkable addition to the world of skincare, offering benefits that contribute to a glowing and youthful complexion. We explore the power of Vitamin C and how this potent ingredient holds the secret to achieving a radiant and flawless appearance, making it a valuable asset in your skincare routine.
The Power of Vitamin C for Skin
Vitamin C is a powerful antioxidant that protects the skin from oxidative stress and free radicals. Its ability to inhibit melanin production brightens and evens out skin tone, reducing the appearance of dark spots and hyperpigmentation. Additionally, Vitamin C stimulates collagen production, promoting skin elasticity and diminishing the signs of ageing.
Brightening and Evening Out Skin Tone
Vitamin C is effective in brightening the skin and improving its overall appearance. As a powerful antioxidant, it reduces the appearance of dark spots and hyperpigmentation, promoting a more even and radiant complexion. Regular use of Vitamin C products can lead to a more even skin tone and a natural glow, unveiling your skin's true luminosity.
Boosting Collagen Production
Collagen is vital for maintaining skin elasticity and preventing the formation of fine lines and wrinkles. Vitamin C plays a crucial role in collagen synthesis, helping to keep the skin firm and youthful. Incorporating Vitamin C into your skincare routine can support your skin's natural collagen production, promoting a more resilient and youthful complexion.
Protection against Environmental Damage
Exposure to UV rays and pollution can lead to premature ageing and damage to the skin. Vitamin C acts as a shield, neutralising free radicals and protecting the skin from environmental stressors, fortifying your skin against the harmful effects of the environment. Its potent antioxidant properties maintain skin health and prevent the formation of fine lines and wrinkles.
Fighting Signs of Ageing
Vitamin C has shown remarkable results in reducing hyperpigmentation, dullness, and other signs of ageing. Incorporating Vitamin C into your skincare routine can revitalise your skin and restore its youthful radiance. Promoting collagen production helps to plump up the skin, diminish fine lines, and improve overall skin texture.
---
Are you interested in incorporating Vitamin C into Your Skincare Routine?
Introducing Vitamin C into your daily skincare routine is simple and versatile. We explore four of our skincare products that showcase the efficacy of Vitamin C in various formulations. Vitamin C proves its ability to address a range of skin concerns, from a jelly serum and ultra-light lotion to a sleeping mask and age-defying cream. You can attain a glowing and youthful complexion by harnessing its potent antioxidant properties while addressing specific skincare needs.
Firming, Brightening & Lifting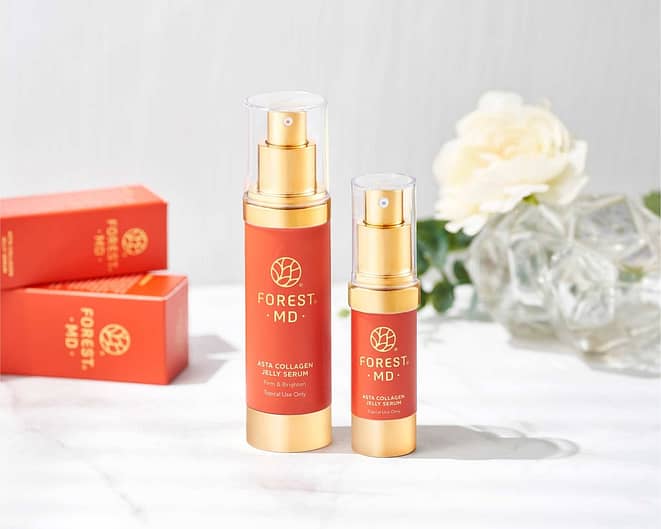 Looking for a do-it-all serum that will enhance every aspect of your skin as you work, play, or sleep? Asta Collagen Jelly Serum is here to transform your skincare routine. This orange-coloured jelly serum is an all-in-one anti-ageing serum, firming mask, brightening treatment, and eye gel designed to improve all aspects of skin health.
Infused with a powerful combination of super antioxidants, proteins, and skin-transforming ingredients, this serum features Astaxanthin, Vitamin C, Centella asiatica extract, Hyaluronic acid, Tremella mushroom, and more. It brightens, firms, calms, and strengthens the skin barrier, leaving a silky feel. Suitable for all skin types and ages, including sensitive and acne-prone skin, it is safe during pregnancy and lactation.
Super-light, oil-free, anti-ageing lotion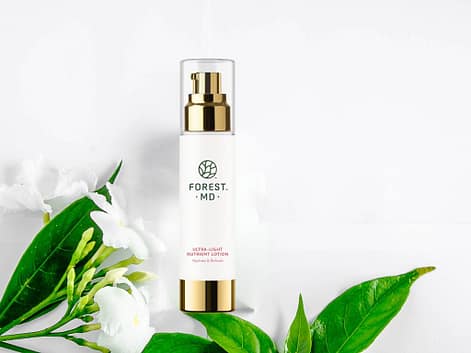 Experience the lightweight goodness of Ultra-Light Nutrient Lotion, a versatile oil-free moisturiser perfect for sensitive, irritated, and acne-prone skin. This super-light formulation doesn't block pores and encourages your skin to heal, making it an excellent choice for your daily skincare routine.
Packed with potent regenerative and anti-inflammatory nutrients from nature, including Inulin, Bakuchiol, Frankincense, and Vitamin C, this youth-enhancing lotion hydrates, firms, and smoothes the skin. Liposomal technology ensures maximum absorption and bioavailability of these active ingredients. The lotion calms inflammation, reduces redness and itching, controls sebum, and strengthens the skin's protective barrier. Suitable for all skin types, it is safe during pregnancy and nursing.
Supercharge your skin with Forest MD's #1 bestseller, our multi-tasking Stem Cell Sleeping Mask!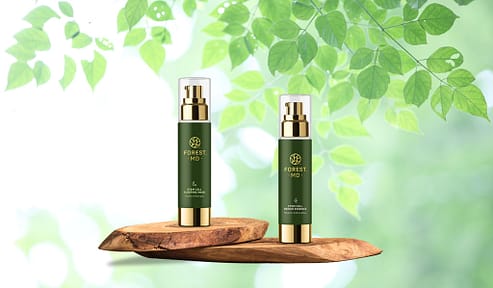 This refreshing gel is more than just an ordinary mask; it's an anti-ageing serum, soothing mask, hydrating overnight treatment, and eye gel. Powered by stem cells from rare heirloom Swiss apples, it has undergone independent clinical trials that prove its effectiveness in significantly reducing wrinkles and fine lines in just 28 days. Additionally, it leaves the skin firmer, more hydrated, and resilient against climate, pollution, and stress.
Utilising transdermal liposomal technology, this gel delivers Swiss apple stem cells, peptides, Carnosine, Vitamin C, and Swiss garden cress into the skin, revitalising and rejuvenating the skin. Suitable for all skin types, including sensitive skin, it can be used as a leave-on sleeping mask or under regular moisturiser for an all-day anti-aging boost.
Exceptional hydration, anti-ageing, and repair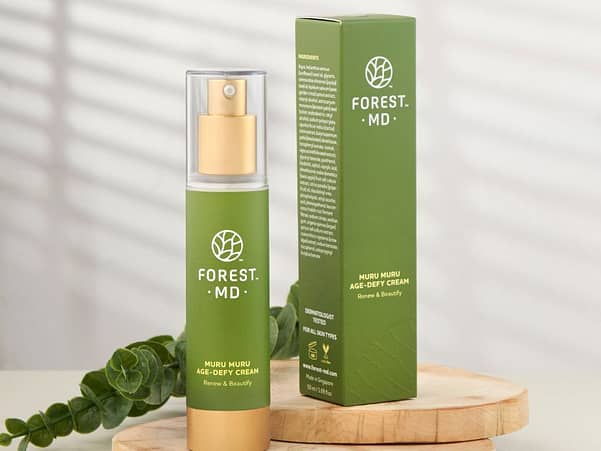 Dry and sensitive, but hate heavy, greasy products? Meet your ultimate anti-aging moisturiser – Muru Muru Age-Defy Cream! This weightless cream combines potent skin-beautifying actives from Mother Nature and botanical stem cells in one gentle yet powerful formulation.
Independent clinical trials have proven its effectiveness with Hydrating Soothing Essence and Stem Cell Sleeping Mask in significantly reducing wrinkles and fine lines in 28 days. It leaves the skin firmer, more hydrated, and elastic while enhancing resilience against climate, pollution, and stress.
The Muru muru butter from the Amazon rainforest softens dry skin and smooths fine lines. Swiss apple stem cells stimulate cell renewal and rejuvenate the skin, while Snow algae powder boosts luminosity, and Cactus stem cells soothe and hydrate. The inclusion of Swiss garden cress and Vitamin C helps defend the skin against pollution, oxidative stress, and ageing. Liposomal technology delivers these precious active ingredients into the skin, ensuring maximum absorption and bioavailability.
This exceptional moisturiser caters to all skin types, especially moderately dry, dehydrated, and sensitive skin. It is ideal for those traveling to dry, cold climates and safe during pregnancy and nursing.
Whether you need a targeted solution or a complete skincare routine, our dedicated team is here to assist you. Don't hesitate to contact us for more information and take the first step towards radiant and revitalised skin.