At IYAC in Singapore, we have proudly offered CoolSculpting, a non-invasive fat-freezing, and body sculpting treatment, since 2011. Our dedication to providing a safe and comfortable experience is reflected in the high satisfaction rates among our valued clients. We take pride in delivering visibly significant results that leave our clients delighted. As part of our commitment to achieving optimal outcomes, all our CoolSculpting treatments include the X Wave (Acoustic Wave therapy) at no extra cost, enhancing healing time and optimising overall results.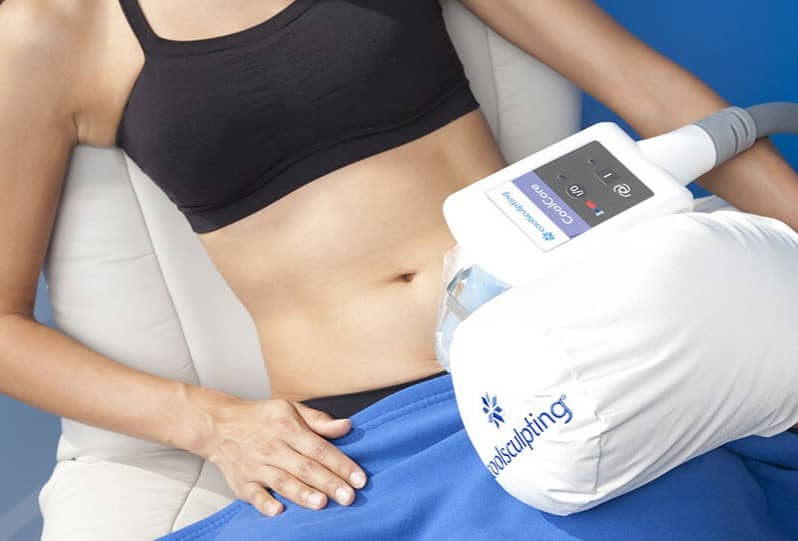 Here are 8 common questions about CoolSculpting answered:
1. What makes CoolSculpting different from traditional methods?
CoolSculpting stands out because it uses Cryolipolysis, a controlled cooling technology that targets and eliminates fat cells without surgery. This innovative fat-freezing technique enables body sculpting, helping you achieve the desired contours with precision and accuracy.
2. How does CoolSculpting work?
CoolSculpting's mechanism revolves around the principle of freezing fat cells, triggering a natural elimination process. The fat-freezing procedure gradually reduces fat thickness in the treated area, providing visible and long-lasting results that contribute to a more contoured and toned physique.
3. Which areas can CoolSculpting treat?
Our CoolSculpting services are designed to address visible fat bulges in multiple body areas. Our comprehensive treatments target trouble spots from the abdomen, thighs, flanks, and bra fat to back fat, upper arms, buttocks, under the chin, and jawline areas.
4. What is the procedure like, and how does X Wave therapy enhance it?
During a CoolSculpting treatment, clients will experience an initial cooling sensation that becomes comfortably tolerated as the session progresses. The procedure is generally well-received by our clients due to its non-invasive nature and minimal discomfort. Each session typically takes around 35 minutes, and there is no need for anaesthesia or downtime, ensuring minimal disruption to your daily activities. We prioritise your comfort and optimal results, which is why all our CoolSculpting treatments include the X Wave (Acoustic Wave or Shockwave therapy) at no extra cost. This safe and gentle therapy complements the fat-freezing process by enhancing healing time and reducing discomfort and promoting better lymphatic drainage, which significantly contributes to the overall efficacy of the fat-freezing and body sculpting experience.
5. How many treatments will I need?
During your CoolSculpting journey, visible results often become apparent after just one session. With each cycle offering 20% reduction in fat thickness, you'll steadily progress towards achieving your body sculpting goals. Depending on your unique body aspirations, additional treatments may be recommended to optimise your results.
Throughout this process, our dedicated team will support and guide you every step of the way. The treatments can continue until you are delighted with the outcomes or until your desired level of fat reduction is attained, eliminating the need for further sessions. Your journey with us is about becoming your best version, and we are committed to providing our support and expertise throughout.
6. When will I see the results?
After a CoolSculpting treatment, clients who lead an active lifestyle and exercise regularly may notice improvements as early as two weeks. As the body naturally eliminates the treated fat cells over time, complete and optimal results typically appear within two months, revealing a more sculpted and contoured appearance. The process may vary for each individual, but staying active and keeping your body well-hydrated can accelerate the transformation and help you enjoy the benefits of CoolSculpting sooner.
7. Is CoolSculpting safe?
CoolSculpting is an FDA-cleared, well-regarded, and safe procedure for non-invasive fat reduction and body sculpting. This technique targets fat cells without causing harm to the surrounding tissues, providing clients with peace of mind throughout the treatment journey.
Note: While CoolSculpting efficiently reduces fat bulges, it is not a weight loss procedure. The treatment is most suitable for individuals close to or within their ideal weight range, aiming to address stubborn localised fat that may not respond to diet and exercise. As long as your weight remains stable, the results achieved through CoolSculpting are long-lasting, leaving you with a contoured and toned physique that boosts your self-confidence.
Discover the Advantages of CoolSculpting at IYAC Medspa
At IYAC Medspa, we take pride in offering CoolSculpting with a difference. Our commitment goes beyond our dedication to safety. Here are some key advantages of choosing CoolSculpting at IYAC:
1. Well-Trained Team
Our Slimming team consists of certified CoolSculpting specialists, ensuring you receive a high standard of care throughout your journey. With their training and expertise, you can trust that you are in capable hands as you embark on your body sculpting experience.
2. Personalised Treatment Plans
We understand that everyone is unique, so we create personalised treatment plans tailored to your specific body sculpting goals. Our team will work closely with you to understand your concerns and desired outcomes, designing a customised approach that best suits your needs. This personalised touch ensures you receive the most targeted treatment for the best possible results.
3. High-Quality Facilities
At IYAC Medspa, we prioritise the comfort and safety of our clients. Our facilities have modern CoolSculpting technology, ensuring a high-standard treatment experience. From the moment you step into our medspa, you can expect a warm and inviting environment conducive to relaxation and rejuvenation.
4. Holistic Approach
Our approach to body sculpting is holistic, considering not only the physical aspect but also the emotional well-being of our clients. We understand that body image and self-confidence are deeply intertwined, and we are committed to boosting your confidence and empowering you to embrace your body with pride. Our passionate team is here to support you throughout your journey, ensuring you feel heard and understood at every step.
5. Transparent Consultations
At IYAC Medspa, we believe in open and transparent communication with our clients. During your consultation, we will provide you with all the necessary information about the CoolSculpting procedure, expected results, and potential risks. We want you to feel informed and empowered to make the best decision for your body and well-being.
6. Ongoing Support and Follow-Up
Our relationship with our clients doesn't end after the treatment. We are committed to your long-term satisfaction and offer ongoing support and follow-up to ensure you are satisfied with your CoolSculpting results. If you have any post-treatment questions or concerns, our dedicated team is here to address them promptly.
Experience the Confidence-Boosting Benefits of CoolSculpting
CoolSculpting does more than transform your body – it boosts your confidence and empowers you in ways you never imagined. Beyond the physical changes, you'll experience a newfound sense of confidence and pride in your body journey. Whether comfortably fitting into your favourite outfit or proudly flaunting your defined jawline, CoolSculpting's positive impact goes far beyond appearances.
Partner with IYAC Medspa for Your Body Sculpting Journey
At IYAC, we have provided CoolSculpting services for over a decade, with consistently high client satisfaction. Our helpful and knowledgeable Slimming Team will support you with personalised consultations and body assessments, empowering you to embark confidently on your transformative journey.
Book a consultation with our friendly Slimming Team at IYAC Medspa today. Let us help you achieve your body sculpting goals effectively and safely, so you can embrace the best version of yourself and enjoy the endless possibilities that come with renewed self-assurance.
Study showing improvements of cryolipolysis with shockwave therapy: read here